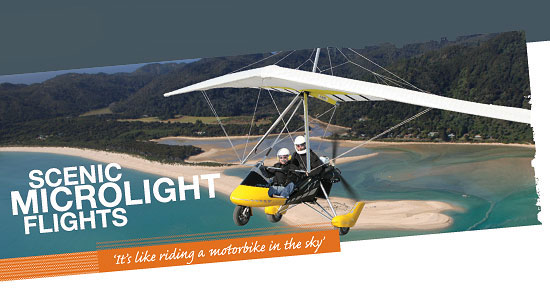 The Experience
Come flying in our factory built state-of-the-art microlights.
These aircraft feature a hang gliding wing and weight shift operation, very much like a traditional hang glider, but powered by a Rotax aircraft engines for optimum safety and reliability. Our pilots all have commercial licences issued by CAA (Civil Aviation Authority) All flights leave from the Motueka Airfield.
Feel the wind, the thrill, the magic of flight, and wonder at the breathtaking views of the Abel Tasman on one of our discovery flights.
CAA Part 115 Certificated.
Tours
SAND FLATS Introductory flight:
$105 (approx 15min)
Feel the rush of wind as you speed down the runway and rise effortlessly into the air. Fly high over Motueka township, see the fishing boats bobbing at anchor at the port as the sun sparkles on the water. Join the seabirds as we descend along the sand flats, fly low over the Motueka River, note the positions of languid trout for later, watch your shadow dance over the patchwork of apple and hop farms of Riwaka before landing safely back at Motueka airfield.
ABEL TASMAN Cross country flight:
$205 (approx 30min)
Once airborne fly over Motueka township and follow the sand flats to Tapu Bay before heading to the famous golden beaches of Kaiteriteri. Follow the coastline to Marahau and dip our wings at the kayaks and sailing boats heading out to sea. We gain some height and below the unforgettable vista of Abel Tasman National Park stretches away into a hazy horizon.
We head back inland and over the Marahau saddle to Riwaka and Motueka.
GRAND TOUR Customise and plan your own flight:
Price on request at $330 per hour rate.
There are so many magical places accessible from our airstrip. The marble and limestone cliffs of the Takaka hill, Harwards Hole, entrance to the Southern hemisphere's largest cave network, the Takaka valley, Awaroa in the Abel Tasman. Map out your own unique route, and create your own memories. With our two aircraft you can even plan a trip with a friend and discover the skies together.

ESSENTIAL INFO
WHAT TO BRING:
Secure shoes, warm clothing, camera.
OPERATING HOURS:
7 days 9:00am to 6:00pm
or call 0800 11 4FUN (0800 11 4386)
BOOKINGS:
Book online
or call 0800 11 4FUN (0800 11 4386)
LOCATION:
Motueka Airport (60 College Street)
TRANSPORT:
Pickup available from Motueka – arrangements can be made at time of booking
(call 0800 11 4 FUN)
PASSENGER GUIDELINES:
1. Weight restriction 100kg/220lbs
2. You will be asked to complete a waiver and medical disclosures form
3. Passengers under 16 require parental consent
4. Operations subject to suitable weather conditions. Money back guarantee, if we have to cancel flights.